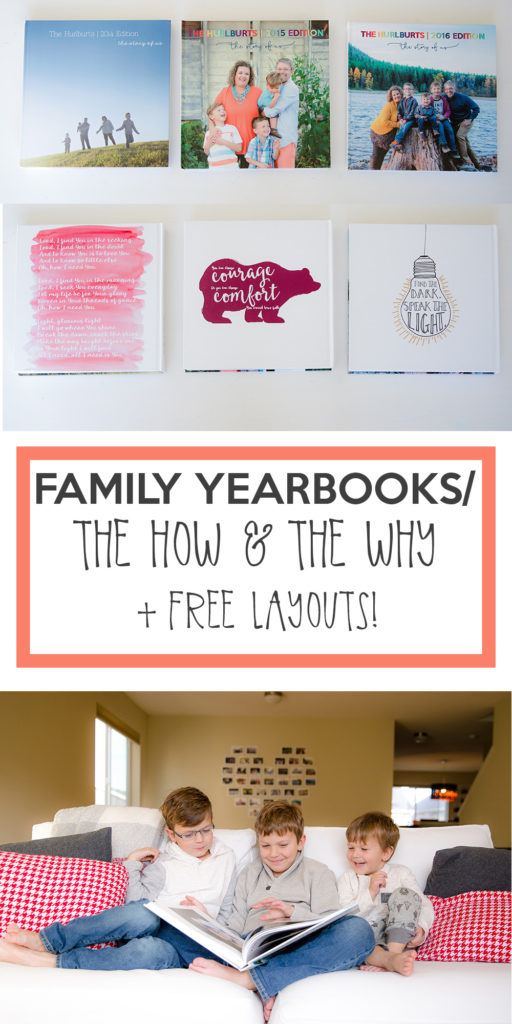 If you've been around here, you might have noticed I didn't exactly have a sunshiney childhood overall. That doesn't mean, however, that there weren't some memories worth holding on to. Some of my favorite memories were those that were relived throughout the years by looking at photos; a trip to Madeline Island where we fed the ducks Cheetos and my sister got bit, our road trip to Yellowstone and the Grand Teton's and seeing mountains for the first time, heading out on a boat for the first time in Okoboji. I don't think my experience is unique. When we relive those happy memories by looking at photos or watching videos, our brain, and therefore our senses, go right back to those moments.
Since we've been married, we have been documenting our adventures. From our move across the country to Washington, DC, to our first pup, to our move back to middle-America, to our kiddos, and our move across the country to the other Washington. While I've loved reliving moments through our photos, watching our kids relive them has made all the photo-taking, editing, and yearbook designing worthwhile.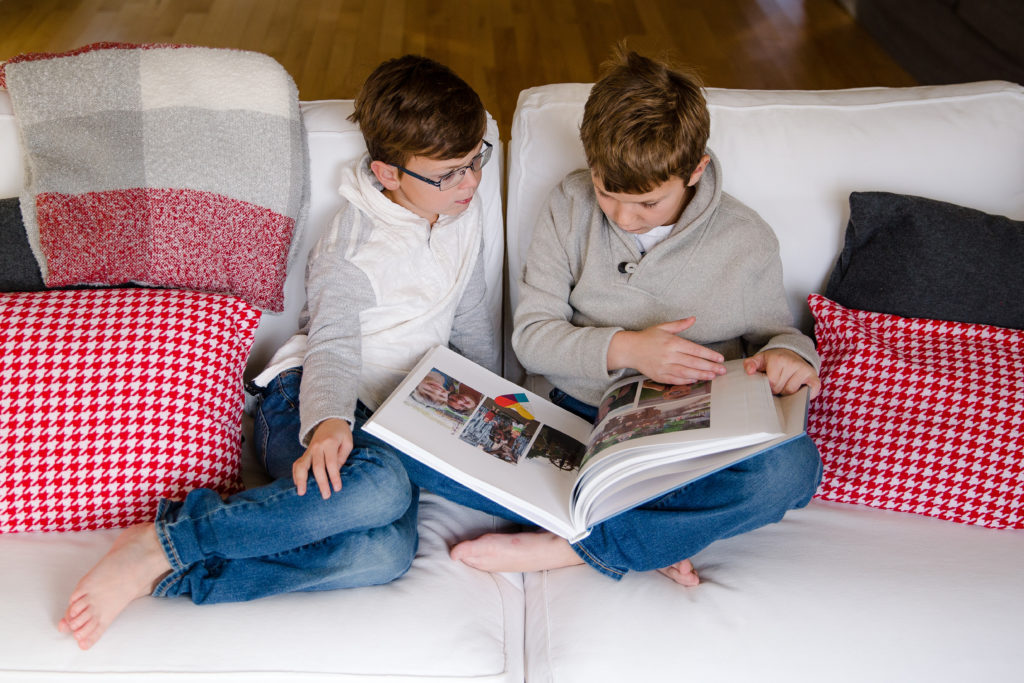 You guys, it's awesome to see them flipping through the pages and talking about not only what's actually in the photos, but all the little details they remember that aren't pictured. Last week they were looking through our yearbooks. It started with one boy, then two, then all three piled on the couch talking about the pictures. They came across a picture of the three of them with their childcare provider at her daughter's graduation. It didn't take long before they were talking about Ann's banana bread and that she let them put ketchup on their scrambled eggs. Then it was how the oldest got his first bee sting in the playhouse, and that the middle got special privileges of not having to nap some days, and the baby talking about Ann's new kitten that was trying to play with him when he was supposed to be napping.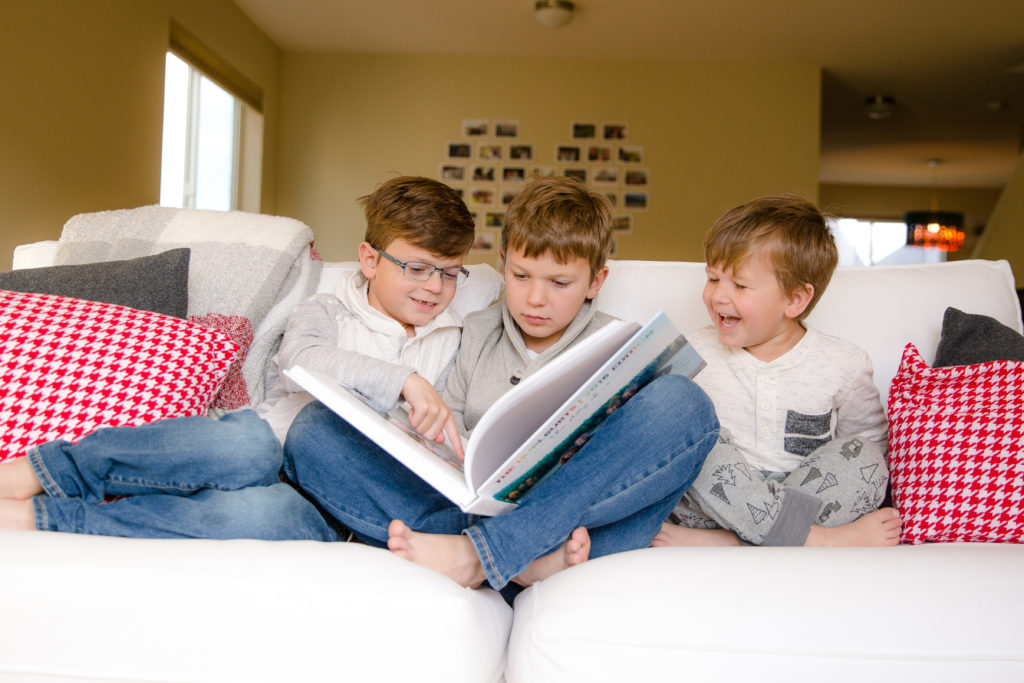 There are so many ways that you can go about making photobooks for your family. I'll let you know how I go about it, but the possibilities are nearly endless. Here are some things to think about when planning how you'll do photobooks. Remember, you can always change it if it's not working for you or your family.
Duration: Will you do books for big events, seasons, half the year, the year?
Subjects: Will you make different books for each child, each big event, or for your whole family?
Appearance: Do you like the look of traditional scrapbooks with embellishments or do you prefer a clean layout?
Sizes: Square? Rectangle? Big? Small?
Durability: Will a paperback hack it in your home? Do you need a hardcover book or thicker paper?
Designing: Do you need a service that allows you to drag and drop in to? A pre-made album? Are you able (and willing) to make your own layouts?
Cost: Is this a factor? If yes, what are you willing to spend? If no, can you also buy mine? Just kidding.
Here's what works for our family: we do a yearly family scrapbook. This yearbook contains everyday snapshots, big adventures, professional family photos, the kids' individual achievements, mom and dad dates, and monthly journaling. What it typically doesn't include is kid artwork (unless they get special awards for it), schoolwork, pictures of awards, report cards, testing scores, or cards. Those all go in individual file boxes I have for each boy.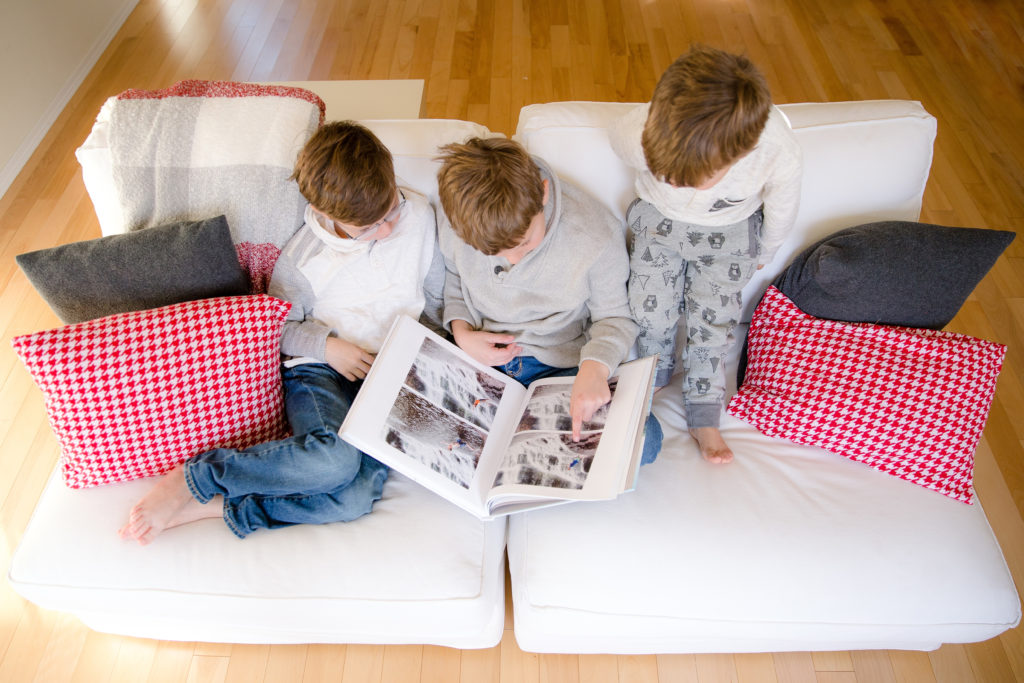 I don't like embellishments as it's really important to me (both aesthetically and sentimentally) that the photos and the memories they hold are what shine in each book. I do, however, love journaling about our adventures. I think it's important to fill in some of the blanks about what was happening in the photos, particularly if it's not obvious. I also like that it gives more information than what's immediately seen in the pictures. Honestly, though, one of the reasons it's become really special to me is because of a statement my husband made to me. He said, "When we're old, or when we're gone, our kids are going to be able to read this and hear you speak these words." Gulp. That was one of those moments where I realized how much the journaling meant in the bigger picture. That when my kids are away from home, or when we are no longer here, they can read these books and remember their momma's loving, sometimes sarcastic, voice. You guys, what a gift that is to your children! Can you imagine having that from your own mother or grandmother (or father or grandfather)? The work is worth it. Write how you speak and from the heart. Mommas, sometimes this means I just cannot write on certain days. If it feels like work, if it feels forced, I shut that document and do not journal. I don't want it to feel that way when my kids read it and it will. I know because I've tried to force myself in to it and when I've reread it later, my lip curled and I rewrote it. Not rewrote the memories but added my voice in, because that forced stuff? That is not my voice and not how I would have told the story.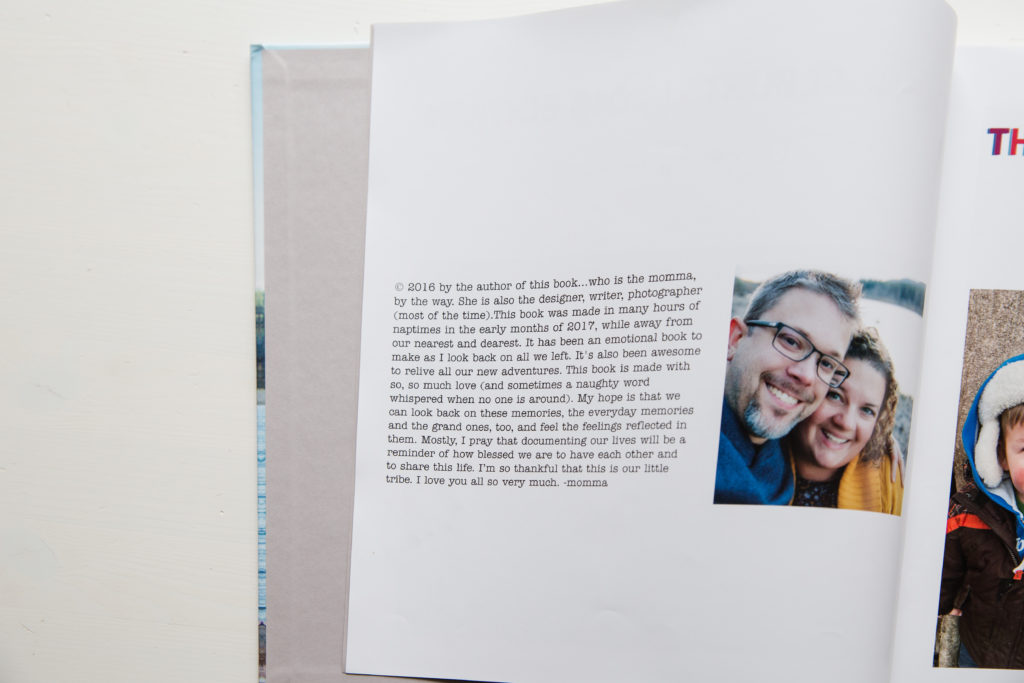 So how do I make the photos the focal point while still journaling? I divide my book by months and start each month with all the journaling for the proceeding photos. Some months it fits on one page, sometimes I have to do two pages of text. I'm okay with that. My kids don't read all of the journaling right now, and honestly, I don't care one bit. I don't think I've read all the journaling all the way through myself. It's not just about today. That journaling will be important one day and for now they read snippets here and there.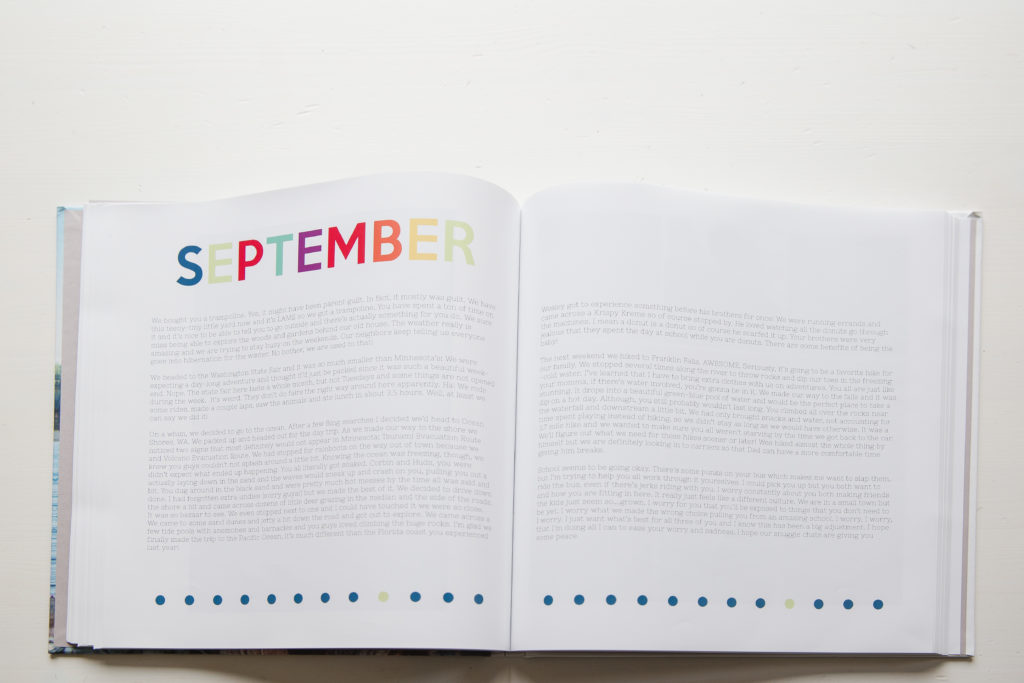 After the journaling page, there is a page for snapshots; pictures that I love but may not warrant an entire layout. This is a great way to use all the phone pictures that might not be super high quality but still show our family's everyday life. Next comes the rest of the photos for the month.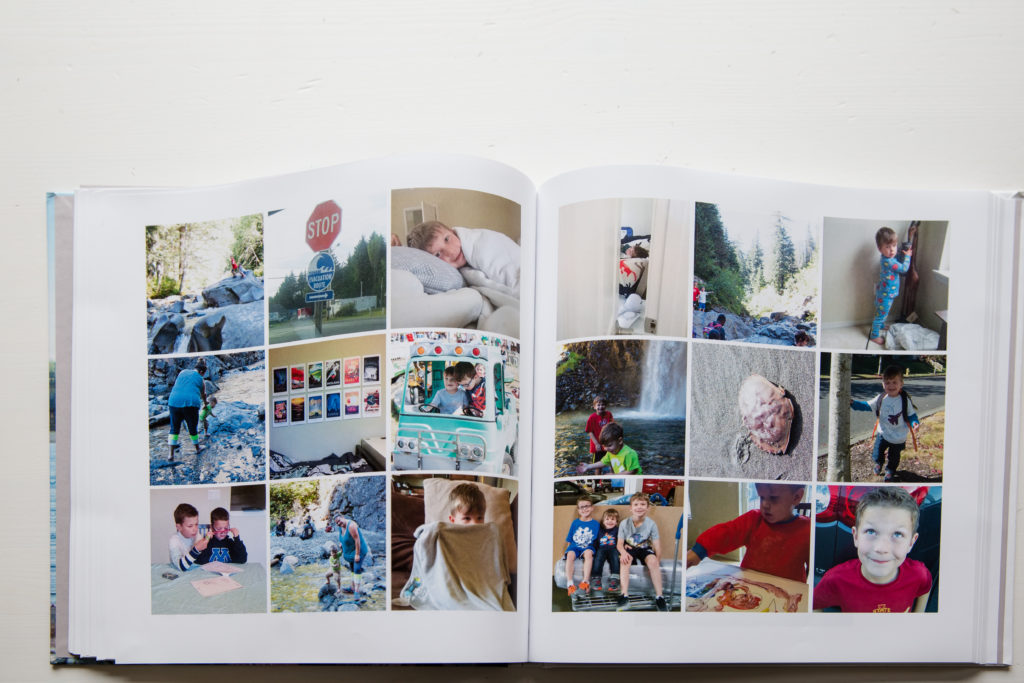 I almost never do text on the same page as photos. I just don't love the way it looks. However, I don't hold myself to that if it makes sense. For example this silly set of photos. We were attempting to get photos of 5 children after we had just given them giant cones of ice cream and then taken them to a wide open green space. It failed fabulously and I narrated the scene below the photos. You can tell by the crinkles in the paper that these pages are some of the boys' favorites to reread.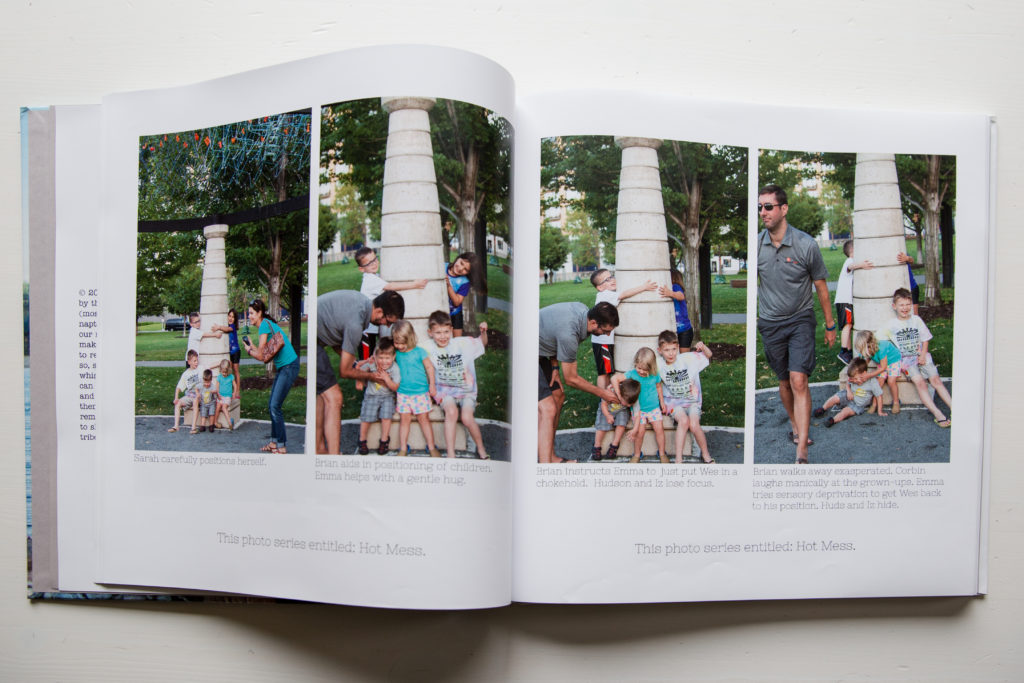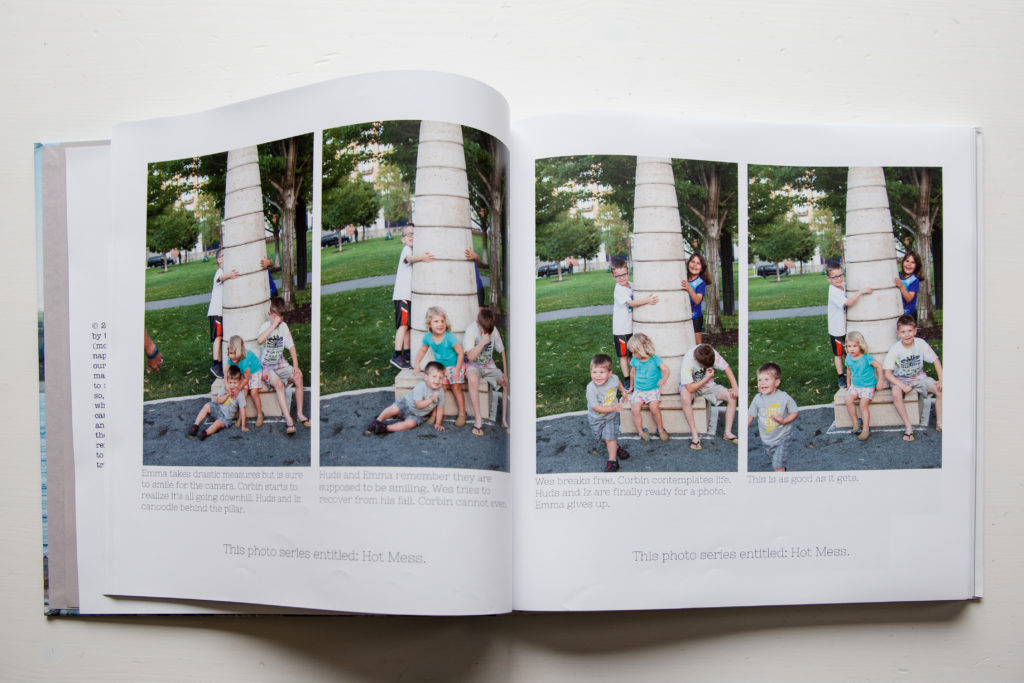 After December's photos, I add our professional family photos for the year. Okay, professional might be stretching it as I managed to capture the last year's (and this year's) using my tripod. I haven't found a photographer I love out here yet, so I did my own. I have my eye on a few photogs for next year though!
At the very end of the book, I do a little side by side comparison of each boy with one of the professional photos from the current year and last year. I love seeing how they've changed. This is also where I put our little end-of-the year "favorites" questionnaire. I ask each boy their favorites (food, adventure, place, friend) and some other fun questions to document what their life looks like through their eyes. I make the same type of layout for Brandon and me.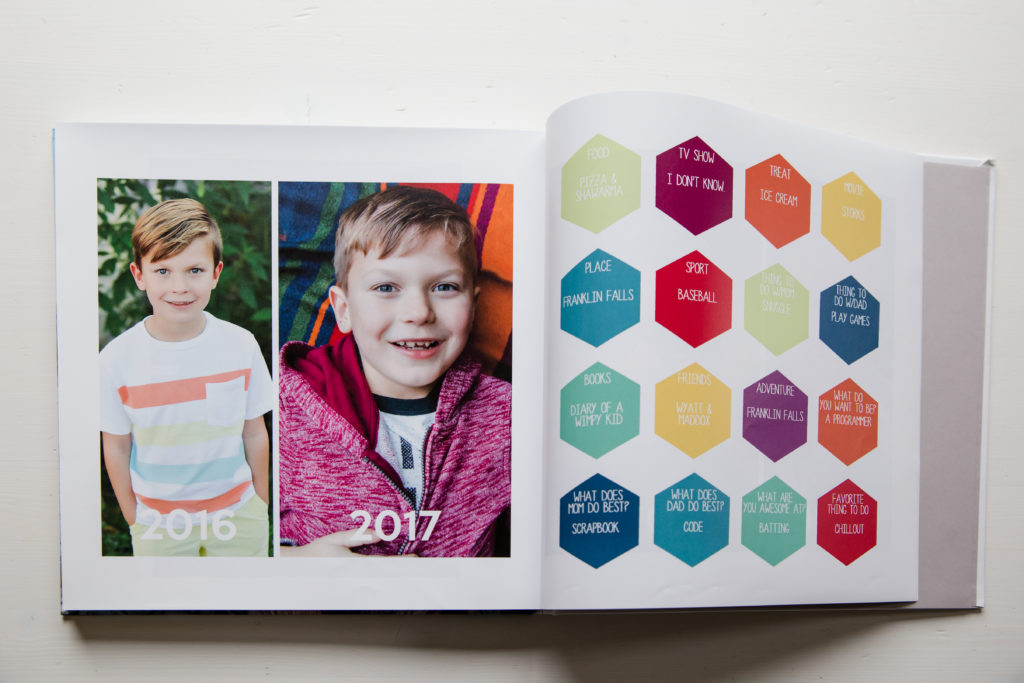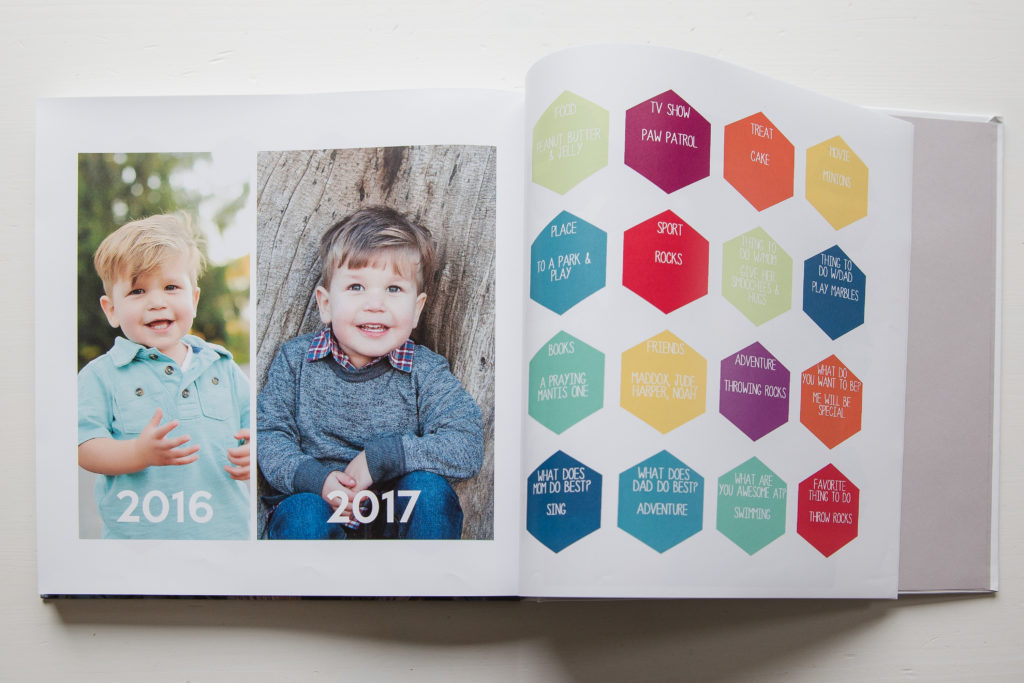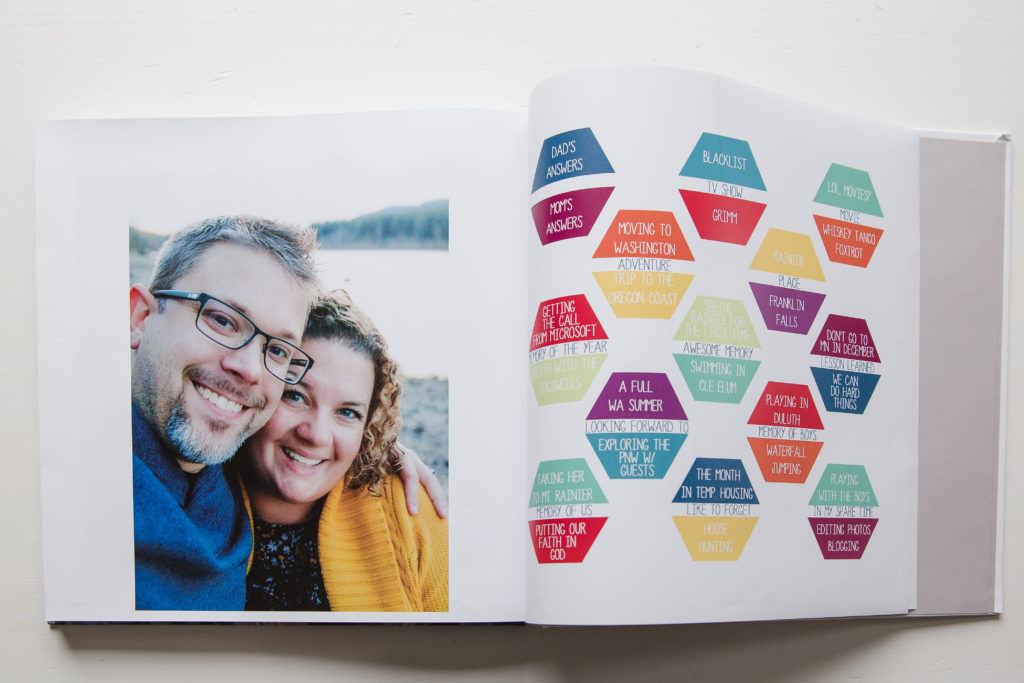 I chose a 12 x 12 layout for my books. I like them to be big, beautiful coffee table books and now that we are out of the baby/toddler stage around here, we keep the current one out and the past books underneath on a shelf. This way they are all accessible and we are still showcasing the current book. It was also important for me to be able to print lots of pages. This put some companies out of the running. Usually my books are over 300 pages and I haven't found a company able to print that many pages on upgraded paper. The standard paper has served us well thus far so it's not a worry for me. It's more important to me that the pictures are printed than to have to toss out pages just to fit a page count – that doesn't work for me.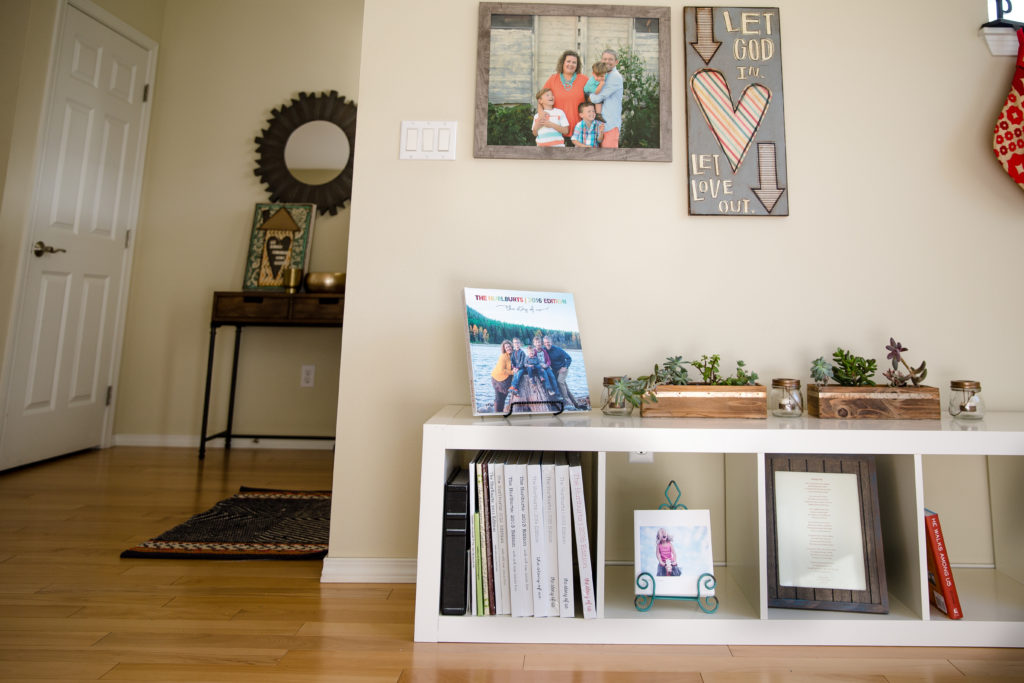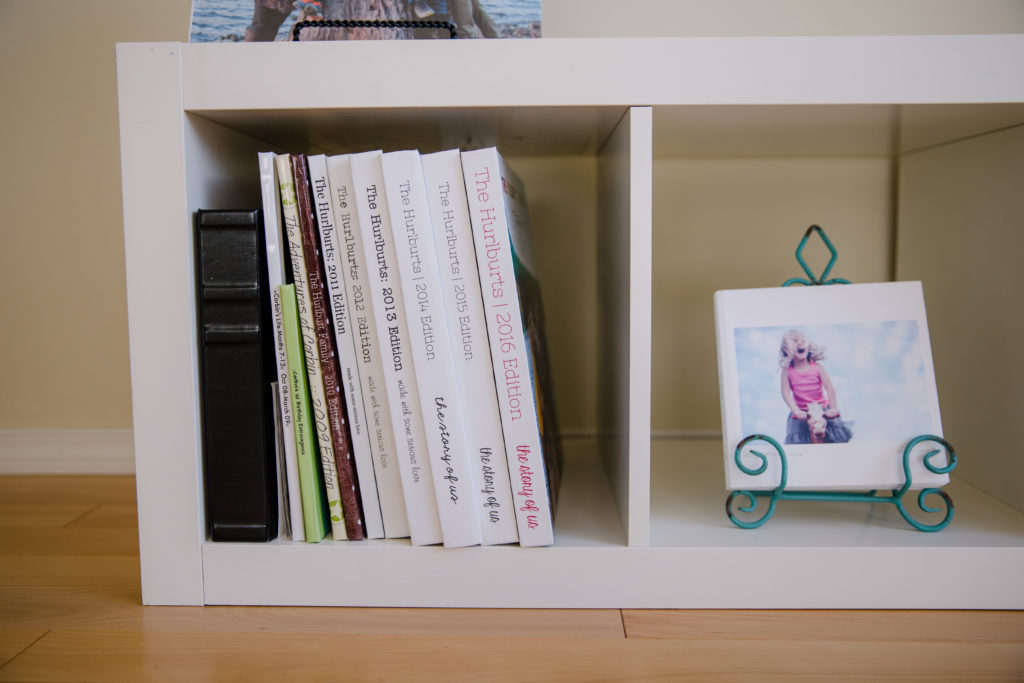 In the past, I've done all my own layouts. I have a package of layouts that I used over and over throughout the book. They are minimalistic which is exactly what I've wanted. I'm going to try mixing it up a little bit this year, still minimal and clean but adding more of a variety of the layouts. Stay tuned for that adventure. If you'd like to use the templates I've made in the past, you can download the 25 Clean Scrapbook Layouts. These are .psd (Photoshop) and .jpg files. The .psd files have easy-peasy image masks to make placing photos as simple as possible. Use them as they are or tweak them for your needs.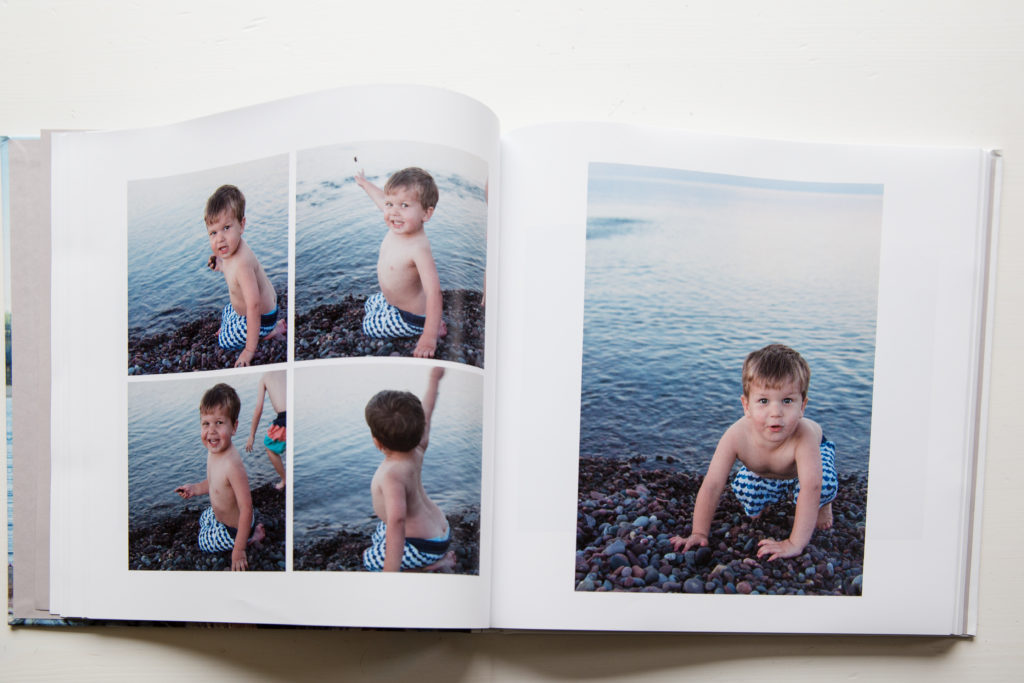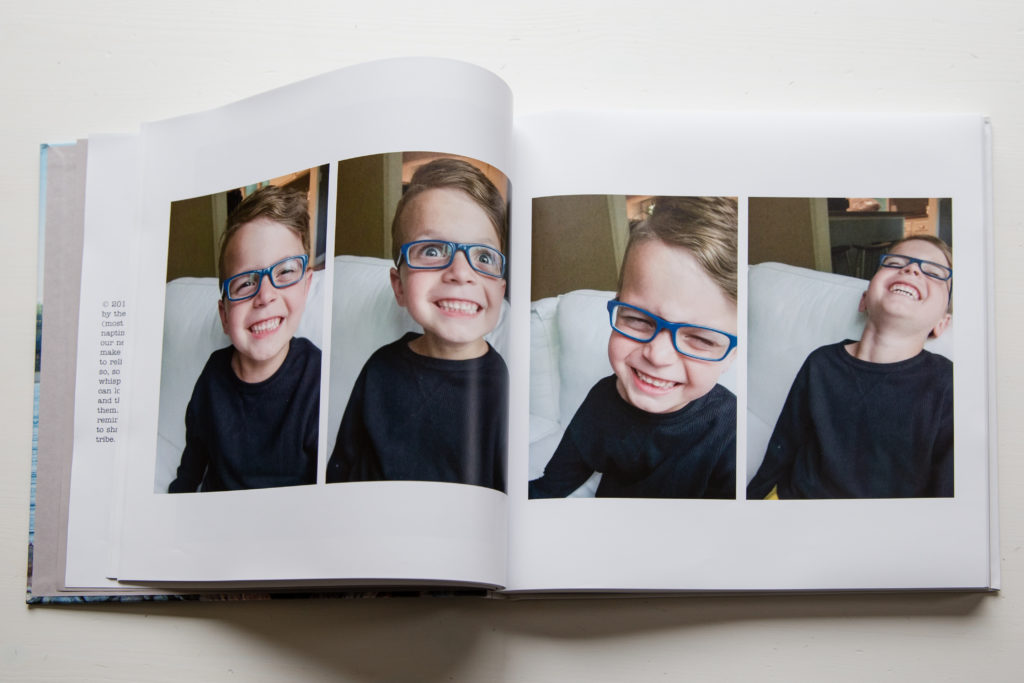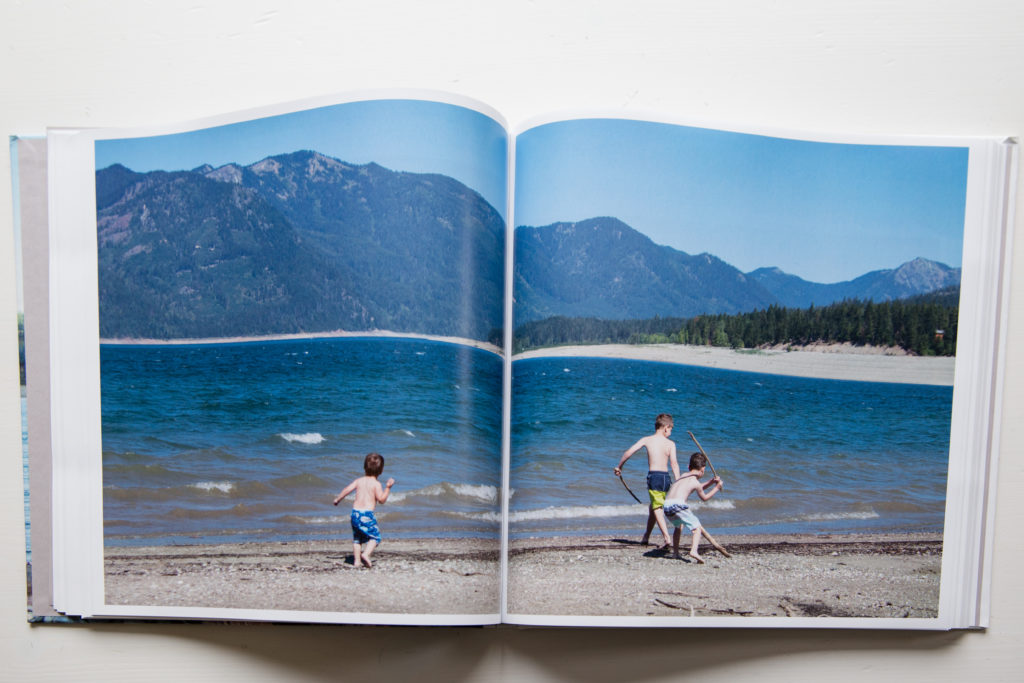 I use Blurb for printing my books. I love the quality compared to my previous book printer and they print up to 440 pages. WIN! They also have extremely responsive customer service. Last year I upgraded to custom end pages (white instead of gray) which was a small fee. When I received my book it had the standard gray. I snapped some photos on my phone and sent them in to customer service. My book was being reprinted before the day was done and got to me quickly with expedited shipping. There was no quarrelling, or asking if I'd just like a refund for the upgrade. They just apologized and fixed it. Immediately. I'm not being paid to tell you how incredible they are, I just wholly believe in companies that treat their customers well and their representatives have always been incredibly kind in their communication. It should be the standard, but it's not so kudos to them!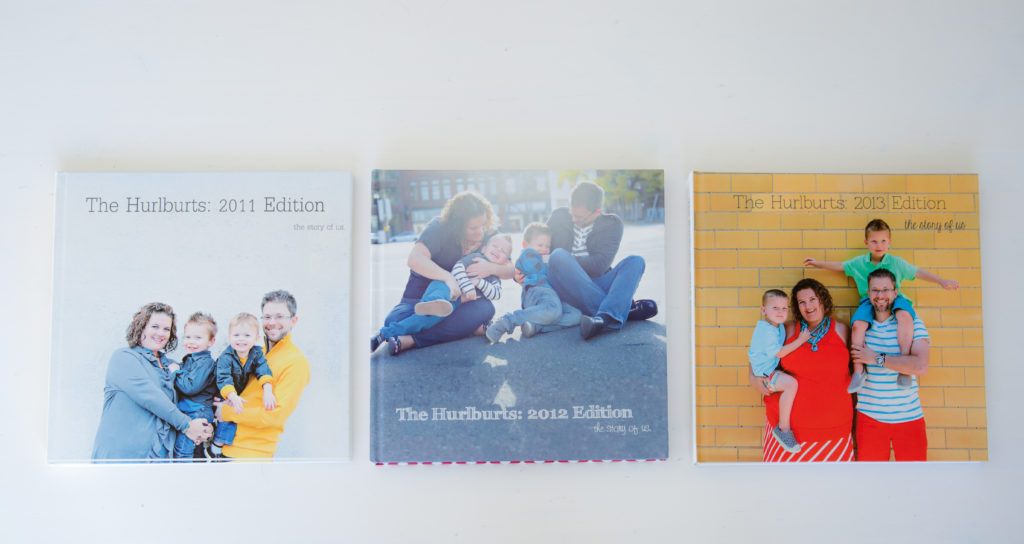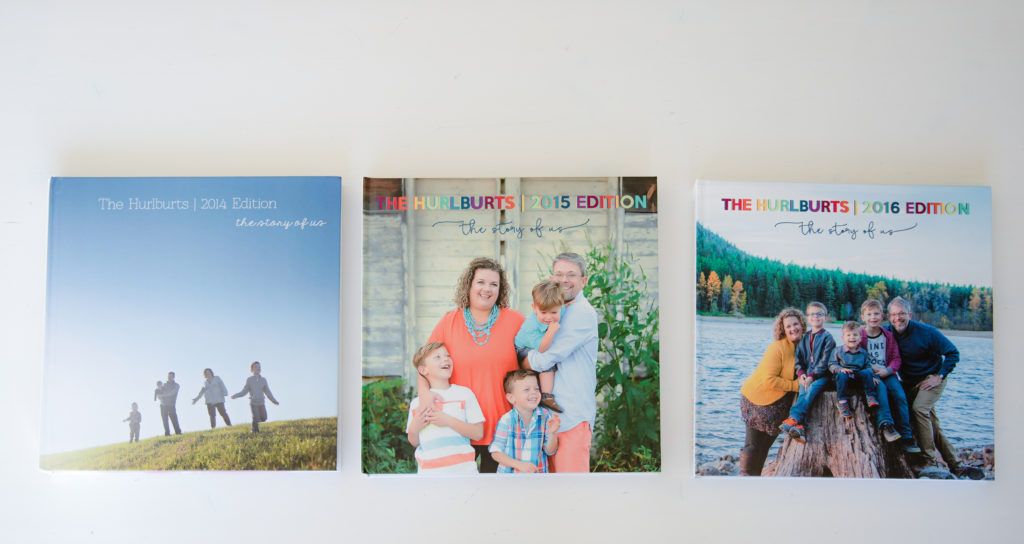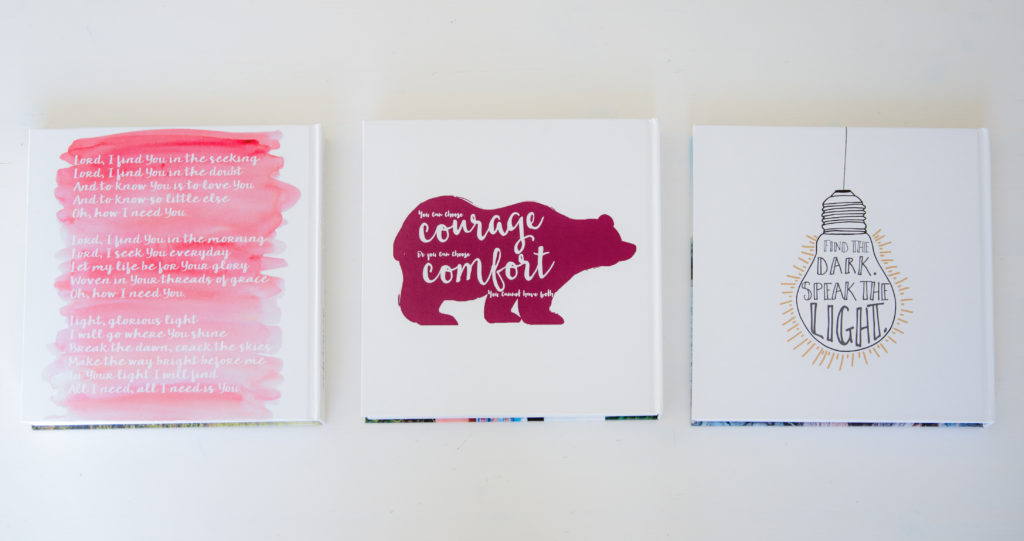 Need to get your photographs organized before you start your yearbook project? Check out this post on getting them where you can find them.
Tell me about how you get your photos into your family's hands. Do you make scrapbooks or put those prints up on the walls? Do you make photo gifts for family members? And of course, check out hudsley.co for some calendars that'll keep your family looking at your photos all year!